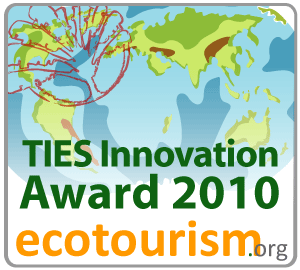 As part of its 20th anniversary commemorating its founding, The International Ecotourism Society (TIES) has launched the annual Innovation Leadership in Sustainable Tourism Awards to recognize innovative leadership of individuals and organizations who promote sustainable tourism that results in tangible benefits to communities and conservation. TIES is the world's oldest and largest association dedicated to promoting ecotourism.
The Award winners – one individual and one organization – will be honored for their best practices and innovative actions, judged based on one example of an innovative project, product, or program developed in the previous year that supports the goal of uniting communities, conservation, and sustainable travel. "TIES Innovation Award offers a unique opportunity to share tangible examples of the importance of this goal, and to honor those who are driving positive change through leadership in conservation efforts and travel product development. It really is a wonderful opportunity to honor those making a difference," says Dr. Kelly Bricker, Chair of TIES Board of Directors.
TIES membership is not required for application. Nominations for the 2010 TIES Innovation Awards must be received no later than Midnight Monday, August 2, 2010 US Pacific Daylight Time. The winning two finalists will be honored at the Ecotourism and Sustainable Tourism Conference (ESTC), being held from September 8-10, 2010, Portland, Oregon, USA.
More information on TIES Innovation Awards and nomination instructions are available at: www.ecotourism.org/innovation-awards

photo courtesy of TIES