Did you ever consider how we chose to live at home matter to people around the world? In our globally-connected world, our lifestyles (how we live, shop, eat, buy, etc.) have far-reaching effect. We can do good for people in, say, Southeast Asia without ever stepping foot in the region. How do we do that? We can use the power of the purse to help. If we integrate more fair trade purchases into our regular buying habits, then we could help reduce poverty around the world. The impact the average consumer can have on global economics is enormous.
Fair Trade is a global movement that promotes fair business practices for workers in developing nations in hopes of creating sustainability. It is an alternative way of doing business where the people producing the product are treated fairly, paid fairly, and are being fair to the environment. Essentially, it's a positive alternative to poverty, environmental destruction and human exploitation. It aims to build relationships between producers and consumers. Global sales of fair trade products grew by 22% in 2008 to over $4 billion. U.S. sales grew by 10% to $1.06 billion. More than 1.5 million producers and workers in 60 countries benefit from fair trade practices.
Now with the holidays upon us, some of us may resist joining the consumption galore culture, but giving up on gift giving may not be an option. Truthfully, most of us will likely buy a few things for our loved ones this holiday. A great way to help those around the world is to vote with our dollars for fairly treated and paid artisans, farmers and field workers–under environmentally-sound conditions. It has never been easier. Anti-Body, an all natural fair trade body-care company has put together a great Fair Trade Holiday Gift Guide.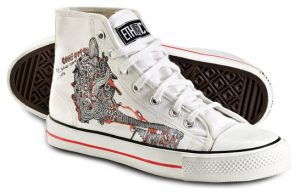 The 32-page catalog features an array of fabulous eco-conscious, fair trade gift ideas for just about anyone – the fashionista, foodie, design maven, workaholic, dude, kiddie — and the responsible online retailers who sell them. You'll find gifts like fair trade Chardonnay, green crushed olive spread, recycled tire tube purses and wallets made from El Salvadorian artisans, sports gear, limited edition Autonomie footwears, and awesome toys for the little ones like Make Your Own Chocolate kits, puzzles and handcrafted caps and bibs.
Shop good and make a difference around the world this holiday!