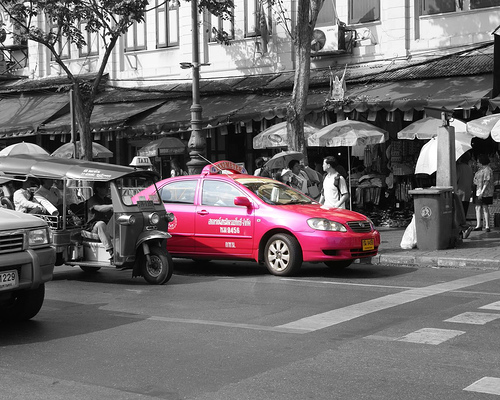 While traveling is a favored activity of leisure for many, it can also be a great deal of stress, especially for women. Here in the United States, there is an awareness to avoid behaviors that may be construed as harassment toward women. Unfortunately in some parts of the globe, women have been subjected to greater threats of harassment even if just trying to get from point A to B. This can be a major concern for women traveling alone, but from England to Iran and everywhere in between, women have been able to put their minds at ease. They've started to think "pink".
Thinking "pink" is a new trend of safe travel for women. In countries across the globe transportation is taking a different approach — with cabs and buses for women, by women. In a world where women are often targeted in their travels, safer transportation options that are now available provide women not only with greater security, but a sense of enpowerment in the midst of travel uncertainties.
Mexico City is the newest addition to this trend with Pink taxi de puebla, a 24 hour, 35 car fleet driven by 60 trained women between the ages of 25 – 45. Not only is the intent of this company to be a safe form of transport, but beyond that shiny pink exterior lies beauty kits, panic buttons and GPS systems. The color pink dotes Mexico city signs for passengers to board any of the Athena programs 22 women only buses. Similar companies have popped up with London's Pink Ladies, or Moscow's Pink Taxi and Ladies Red Taxi (for both men and women). In Dubai, taxi's deigned with pink roofs are known as taxi's safe for women and children. Even countries we deem not particularly progressive in their views toward women are starting to think "pink", such as Iran.
Not only does driving pink offer a safe, comfortable experience for its passengers, but it is empowering its employees. One of the cab drivers stated that being a cab driver is normally a man's job. Because of that, it makes these women drivers feel even more useful. No matter where you stand on women's rights or stereotypes, the popularity of this movement is growing. If your safety is a concern when you are traveling, think "pink". It provides a safer alternative and a peace of mind!

By Jillian Kronberg
photo by vaubeh
[springwise.com]