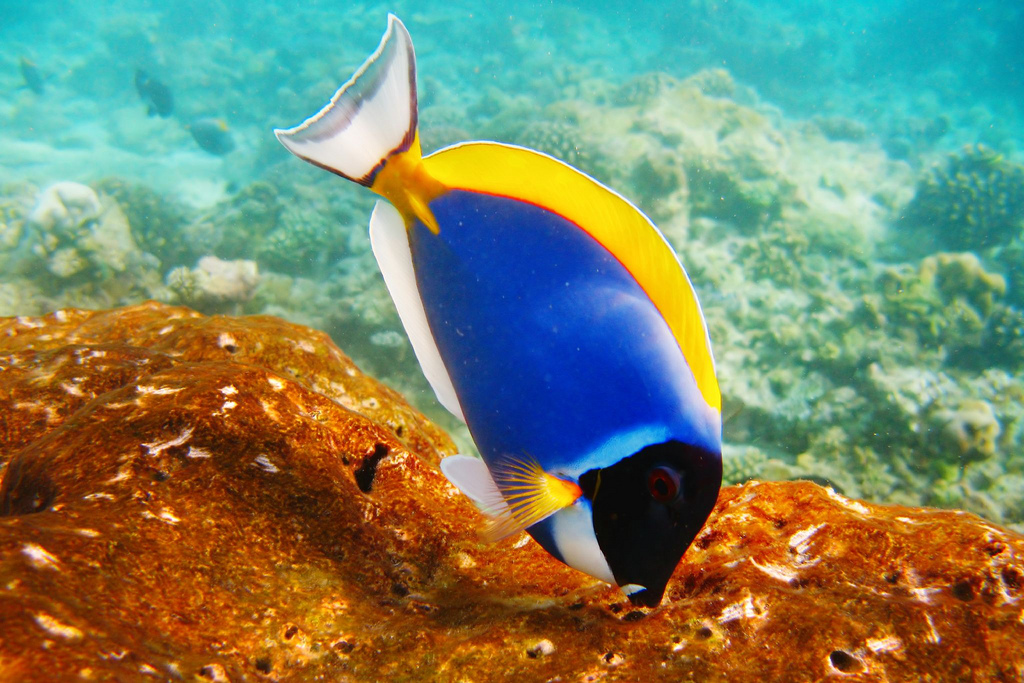 Looking for a trip by the azure blue sea, white sandy beaches or relax by a lagoon looking out to the vast, crystal clear ocean AND you want to spend some time giving back to the local community during this idyllic tropical vacation?
The Six Senses collection of luxury hotels and resorts has made sustainability and giving back to the community a priority, without compromising the experience and expectations of guests. They want more people to join their efforts. We've featured Six Senses' Soneva Fushi last year as one of the hotels that offered discounts to guests for volunteer service. Again, Soneva Fushi, along with Soneva Gili by Six Senses, both located in the Maldives, are offering guests the opportunity to give back with an attractive free nights offer. For the next six months, guests are invited to stay at either resort for a luxurious 10-day stay with 5 nights paid and 5 nights free when they spend the first 5 days (five hours each day) working on local community projects, such as marine conservation, teaching children, planting trees and learning how to turn waste into something useful. Soneva resorts are involved with on-going projects and will customize a program based on guest preferences.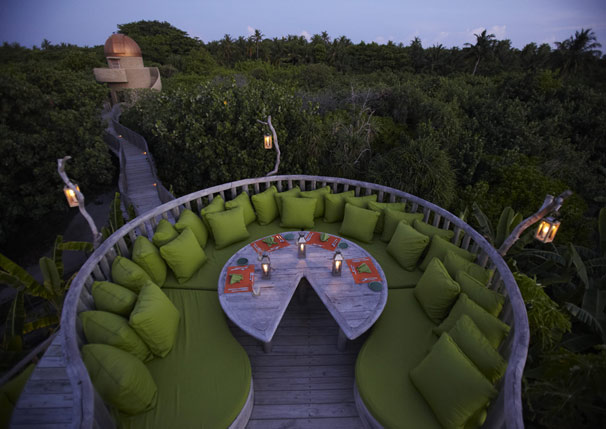 Maldives, a South Asian country situated in the Indian Ocean, southwest of Sri Lanka, on the equator, consists of 1,190 coral islands, forming an archipelago of 26 major atolls that stretches 820 kilometers north to south and 120 kilometers east to west. About 202 of the islands are inhabited, 87 are exclusive resort islands with gorgeous, sunny weather all year round. The Maldives has been a melting pot of different cultures as people from different parts of the world settled there. Some of the local music and dance have African influences, with handbeating of drums and songs in a language that is not known to any but certainly represents that of East African countries. South Asian influence is prominent in some of the music and dancing and especially in the traditional food of the Maldivians. Dhivehi is the language spoken in all parts of the Maldives, but English is widely spoken by Maldivians and visitors would have no problem getting around.
The Soneva resorts are known for their support and respect for local communities. The Soneva Fushi employs 90% local people to work on its resort and uses local foods and services. In addition, the Soneva resorts reinvest 0.5 % of the total annual resort profits to a Social and Environmental Responsibility Budget that have made the following initiatives possible:
Blood donation program: Working with the Society for Health Education, a local NGO that promotes family well-being and works, among other services, to screen people for thalassaemia (a blood disease common in the Maldives), Soneva arranges blood donation events among its hosts and thereby supports local thalassaemia patients.

Drug awareness program: The National Narcotics Control Bureau is the main agency responsible for drug prevention in the Maldives and has helped Soneva Fushi carry out drug awareness events for its hosts and nearby communities.

Computer Education in Rural Areas: Schools in rural areas of the country receive minimal aid in terms of improving the quality of education and enhancement of the facilities. Soneva Gili donated computers to Maafushi and Himmafushi schools in two regions of the country last year. This is a part of an ongoing program and is expected to continue for many years to come.

Tree Planting: In March 2007 Soneva Fushi implemented a tree planting campaign in conjunction with the residents of our neighboring island Eydafushi, as part of the resort's social responsibility program. A group of hosts and resort guests presented 300 saplings to the staff and students of the island high school. Many guests are interested in the environmental profile of the resort, inquiring about the energy systems and environmental programs of the resort by talking with our in-house perma-culturalist or reading the "Green Book", one of the in-room compendiums.

Empowering Local NGOs: Empower NGOs at the local level to help them sustain and procure developmental opportunities from outside donors.

Other benefits to local communities: The resorts have donated personal computers to several schools, sponsored an expensive scanning unit for the atoll hospital, financed waste disposal areas on local islands, pays the monthly electricity costs for the neighboring island's harbor lights and carries out weekly mosquito-prevention programs on other local islands. The Eydhafushi Island Development Committee is also supported by employing women for island-cleaning activities on a weekly basis. Furthermore, numerous disabled children on local islands are continuously supported financially, and the medical treatment of the hosts and their families are regularly facilitated too.
The Six Senses hotel group has a group-wide Social Responsibility Project in association with Care for Children. This Thailand-based charity exists to relieve abandoned and orphaned children by the introduction of strategic initiatives in child care practice. The resort invites guests to offer financial support for Care for Children.
While most people come to the Maldives to relax in this tropical paradise, enjoy the enchanted Soneva villas, beaches and fabulous dining and excursions, guests of Soneva resorts have the opportunity to see the wonderfully hospitable and cultural Maldivian culture and community in a very real way.

photo courtesy of nattu, soneva resorts