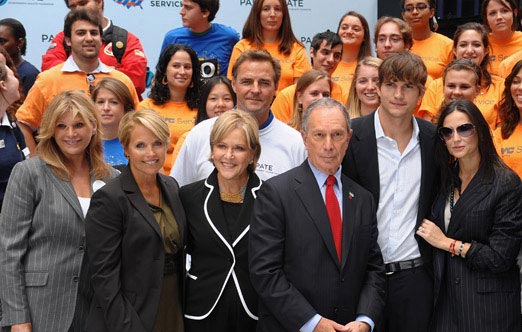 Over 100 programs on the major networks and cable will spotlight the idea of giving back in their story lines or public service announcements this week (beginning Oct. 19 and lasting for 7 days). This is the centerpiece of the Entertainment Industry Foundation (EIF)'s iParticipate initiative aimed to mobilize the entertainment community to inspire a new era of service and volunteerism. The iParticipate initiative, a multi-year campaign, hopes to make service a part of who we are as Americans and show what we can achieve when we all pull together. The project has been embraced at an unprecedented level by the networks, studios and stars.
So if you felt the urge to do good after watching your favorite shows, it's the coordinated efforts of iParticipate. The message will be pervasive, starting in the morning with programs such as "Today" and "The View," and then echoed on soap operas, prime-time series and late-night shows. Some examples of this theme running through prime time shows across networks: the photo shoot on last week's Ugly Betty had the UN's Nothing But Net theme; the doctors on ABC's "Private Practice" give homeless teenagers free checkups; NBC's "30 Rock" page Kenneth Parcell tries to adopt all the dogs at an animal shelter; and two characters on CBS' "Numb3rs" talk about joining Big Brothers Big Sisters.
The initiative dovetails with President Obama's call for national service. The iParticipate's database of volunteer projects is powered by a nonprofit Web platform called All for Good, designed by engineers from Google and other tech companies to be a single search interface for volunteers.
Instead of the traditional, stoic public service ads (PSAs), the industry is getting more creative by embedding messages into television shows to attain a level of relevancy and authenticity. It's powerful to have this message so embedded in our media-centric culture. EIF is now talking with film and music executives about including iParticipate into their work.
[LA Times]
photo credit: iParticipate