White sandy beaches, crystal clear blue sea, brilliant underwater world…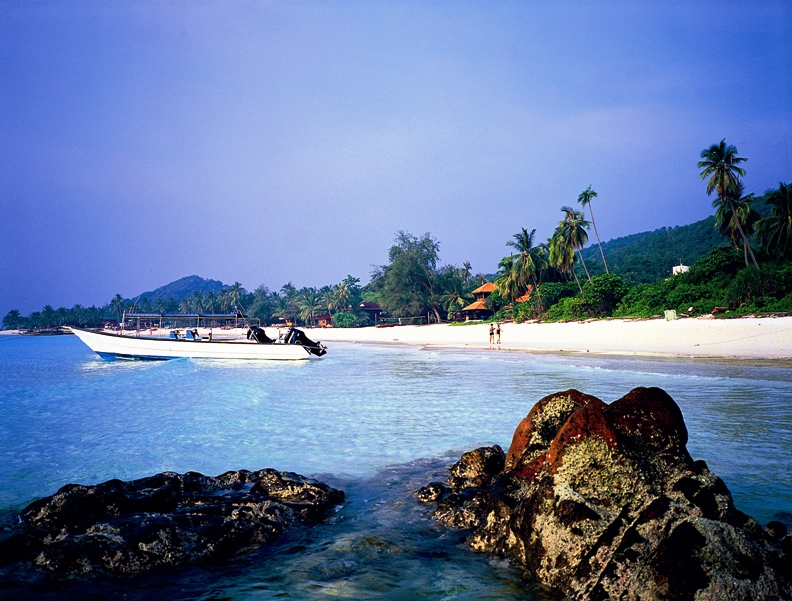 Spend a week at this tropical paradise and participate in a worthy effort to conserve and monitor threatened species like hawksbill and green turtles.
Redang Island in Malaysia is located in the South China Sea, approximately 45 km North Northeast of Kuala Terengganu and 22.5 km east of Tanjung Merang, the take-off point for the island from the mainland. Redang tantalizes each visitor with it's amazing array of marine life and placid turquoise waters. As one of Malaysia's more popular island destinations, its diversity of coral reefs, tropical fish, sea turtles and other underwater attractions provide a colorful parade of biodiversity. Located off the coast of Terengganu, Pulau Redang Marine Park groups nine isles together as a protective area to safeguard marine diversity. Unknown to the average tourist, the island is also home to the largest aggregation of nesting green turtles in Peninsular Malyasia. Hawksbill turtles also nest in Redang, but contribute less than 2% to the total nestings.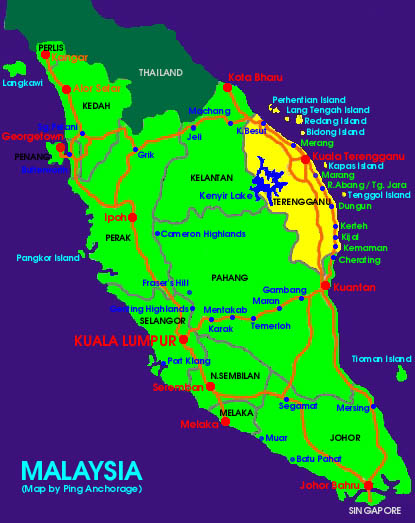 A vibrant marine turtle research and conservation program was initiated in Chagar Hutang, the major nesting beach on Redang Island in 1993 by the Sea Turtle Research Unit (SEATRU) of University Malaysia Terengganu (UMT). SEATRU adopts a three-pronged approach to fulfill its objective of saving the turtles of Redang from extinction, i.e. through research, practical conservation at the nesting beach and educational projects.
Every year, UMT organizes a turtle conservation SEATRU program for volunteers. This is a weekly program (from Saturday to Saturday) that runs from April to October in which a group of up to 12 volunteers depart for Chagar Hutang in Redang Island for conservation work.
This annual program is quite popular and really need to be book ahead and quickly. The cost is RM200 or $250US ($150US for students) for foreigners. Registration for 2010 will not be available until February or March 2010. Program fee includes:
Briefing and supervision
Boat transfer to the island for one-round trip
Boat transfers to Chagar Hutang Beach
Food and accommodation at Chagar Hutang for one week
As a volunteer, you will help SEATRU conserve and monitor sea turtles on the most important nesting beach in the whole of Peninsular Malaysia. You will benefit from the experience gained in conducting research, conservation and monitoring activities on wildlife. You will have access to one of the most beautiful spots of Pulau Redan and will bring back memories of aquamarine waters of Chagar Hutang, its stark stillness in the late evenings, the star-studded night skies, and the wonderful, gentle creatures you have helped to save from extinction and human exploitation
You're a part of a team whose mission is to help monitor every turtle which lands on the beach to nest, protect them, their eggs and hatchlings. The work involved is very similar to work carried out in many sea turtle conservation programs throughout the world.
Your night-time duties include:
patrolling the 350 meter long beach at regular intervals to locate and record all turtle arrivals
monitoring the nesting activities of turtles and timing the various stages of nesting
tagging and measuring turtles after they have completed the egg laying process
marking and measuring the location of nests
all necessary data recording
assist in other research, education and conservation activities undertaken by SEATRU
Your daytime duties are:
marking and measuring the location of nests deposited the previous night
patrolling of beach at regular intervals to inspect and protect nests undergoing incubation
excavate hatched nests and analyze nest contents
assist in other research, education and conservation activities undertaken by SEATRU
keeping tourists away from landing on the beach
assist in cooking and housekeeping chores
other chores as they arise
There will also be plenty of free time for you relax, enjoy snorkeling in the coral waters of Turtle Bay, just off the nesting beach, swimming, hiking, exploring, etc. You will see nature at its best in Chagar Hutang, which is backed by a tropical forest. There will also be opportunities to visit the fishing village and other locations on Redang Island.
As part of our on-going series, Budget Volunteer Vacations , we spotlight low cost, no frills volunteer travels to various destinations around the world. These trips do not include airfare, but meals and lodging are often included at no cost or for a minimal cost of $100-$250. These trips are great add-ons to your vacations!
Photo by cuti