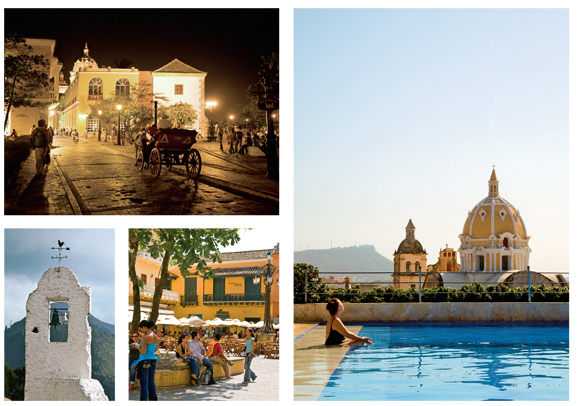 Looking for the ultimate travel experience for 2012?
We came across WorldsGreatestTravelers.com's 5th annual "2012 Travelers GO/noGO List" — the list includes places to go and not to go.
According to the website, this list is for travelers who are looking for something different in 2012. "Serious travelers want authentic, exciting and participatory adventures nowadays. They want to visit places that are exotic, places that are exciting, and that offer them a chance to get out of their comfort zones and have a real adventure."
2012 GO List
Colombia…is the hottest of South American hot spots with its rich colonial past, modern safe boulevards, gorgeous beaches, and 14% of the world's rainforest.
Nepal…experience how magical and mysterious life used to be in this mountainous Hindu kingdom with a view of Everest…sunsets have never been so surreal!

Dalmatian Coast, Croatia… forget the French, Italian and Mexican Rivera's, this place is hot. From Zadar to Dubrovnik you can't beat the beaches, scenery, food and nightlife…the dollar goes a long way too!
London, England …and the Summer Olympics begin in the illustrious British city July 27th with the whole world watching—join the fun in person! Even without the Olympics, there are so many wonderful things to do and places to stay, choosing a hotel in London this year is sure to not disappoint!
Cairns, Australia…sure, see the Great Barrier Reef while you can, but double-down and catch the total eclipse that occurs there on June 6th and in good weather—because the next one isn't until 2017!
Tallinn, Estonia…hang out in Pikk jalg, the old town's medieval city center sipping coffee or a locally-brewed Saku as the sky turns pink and the most beautiful people in the world stroll by.
Istanbul, Turkey…our favorite city in the world circa 2012…a criminally underrated multi-cultural and exotic destination!
2012 noGO List
While we don't agree with everything on the noGo list; we thought we'll share anyways. Nine places you should voluntarily avoid:

Moscow, Russia…an ugly city, drab, empty museums, crazy high prices, major infrastructure issues, crime, corruption…other than that, Putin says it's a great place!
Karachi, Pakistan…who needs the headache of always looking over your shoulder.
Cape Town, South Africa…a beautiful place to visit; but don't carry a camera, ask directions, use an ATM, walk alone, hail a cab or eat outside.
Mexico…express kidnapping on the rise and drug lords run amok…sad, really sad.
Caracas, Venezuela…Chavez is not totally to blame, but this is a tough town!
Dubai, UAE…from hot to not—PDA's will get you arrested in this manufactured over-hyped expensive Disneyland!
Sao Paulo, Brazil…sure you can get a great cocktail, but why would you in this urban purgatry run amok?
Lagos, Nigeria…always on the list…overcrowding, corruption, clogged sewers, traffic beyond belief!
Somalia…it just doesn't stop… militant Islamists, pirates, bandits and dire famine…20 years running!

photo credit: theatlantic.com