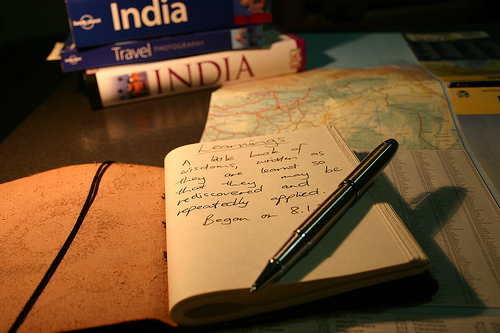 One would think with the access we have to information these days on the Web, our lives would be so much easier when it comes time to plan for travel. Yet, research and planning a vacation can be an overwhelming experience…even more so. With so many choices to make, research, and information to keep track of, some find it rather difficult to stay ahead of the game. Help is on the way. There are a growing number of websites that have been created to help us stay organized, plan where to go and what to do.
We found seven online tools and websites aimed at organizing travel tips that are worth checking out. Recently, The New York Times highlighted six websites and we added one of our own. These online sites recommend ideas, organize your research, and even help you save a penny or two.
Gliider is browser tool that saves and organizes travel research. It's run through Mozilla Firefox, provides easy access and file storage with the click of an arrow icon on your navigation bar. This site saves travel research and organize it in an efficient manner, allowing you keep all your files, text, pictures, and research on a specific trip together in one place. They take the files and help you organize with labels, keep different parts of your trip separate, and can be shared with whomever you choose. They've partnered with other established online travel sites such as Hotels.com and Travelzoo, giving you opportunities to get discounts and save money. In January, iPhone users will be able to use a Gliider application on their phones.
TravelMuse and NileGuide help organize trip information, create custom travel guides and book trips through partner sites. For the indecisive, these sites also have their own content. Travel Muse's "Inspire Me" feature provides travel destination ideas based off your interests or what you would look for in a vacation. The more popular the destination, the better luck you will have finding information as these sites continue to build their content.
Trekaroo, modeled after the review site, Yelp, focuses on helping families find hotels and age-appropriate activities recommended by other parents. It covers 65 destinations with over 20,000 reviews.
UpTake and Goby are activity focused search engines. Their search is thorough and focused on activities the traveler is interested in, so their search results would offer better and more relevant tips. Goby, launched in September, searches across hundreds of vetted websites for the lowdown on attractions, activities, events, restaurants, and lodging. Goby has three search boxes based on three questions: What? Where?, and When? that allows users to chose among 300 categories or by keywords the activities they are interested in, destination and time frame.
Traxo is a relatively new social media site that organizes your trip itineraries and connect with friends on the road. It's primarily a trip organizer tool that pulls travel information from 40 major U.S. booking sites and checks them to update your itinerary. Once you have an itinerary, the social media part kicks in. Traxo searches your approved "buddies" list for a given destination and if one of your "buddies" has been there, Traxo will inform the both of you. The usability is much like Facebook; there's a buddy approval system and an inbox, for e-mailing buddies for travel advice, etc. You can import all your Facebook friends automatically into Traxo, and your trip itineraries can be published on your Facebook wall.
Sites like these are popping up all the time. Any that you found useful and want to add to the list?
Contributions to post by Jillian Kronberg

photo by travellingtamas