Crazy traffic jams, noisy Bluebird taxis, and terrorist threats have all detracted from Bali's status as an island paradise. What's a traveler to do for a little tropical R&R now? These three island destinations, though very different from each other, will most likely bridge the loss for most.
Gili Islands
Comprised of Gili Trawangan, Gili Air, and Gili Meno, the Gili Islands have been called the Bali of yesteryear – only with all of today's modern benefits. Be prepared: there is no motorized traffic allowed on the island, so your options are to walk, to cycle, or to pony up. However, this provides you with the perfect opportunity to splash lazily through the calm, clear water and admire the nearby mountain ranges.
Glass-bottomed boats and full snorkeling accoutrement can be rented out for approximately $8.70, and turtles, reef sharks, moray eels and schools of mackerel are all common sights. In the evenings, everyone gathers on Gili Trawangan at the island's sunset spot, enjoying the warm night with cold beer.
Reggae bars are cultural staples. Be sure to check out Scallawags, the premier place for barbeque seafood, and ko-ko-mo, the island's only genuine fine-dining eatery with a menu featuring lots of super-fresh seafood and sashimi. What are you waiting for? Hop on the Blue Water Express. Hotel Villa Ombak offers prime beachfront location, a three-tier saltwater pool, grounds scattered with hammocks, an on-site spa, and fresh water showers. Or maybe digging your toes into pure white sand is luxury enough.
Nusa Lembongan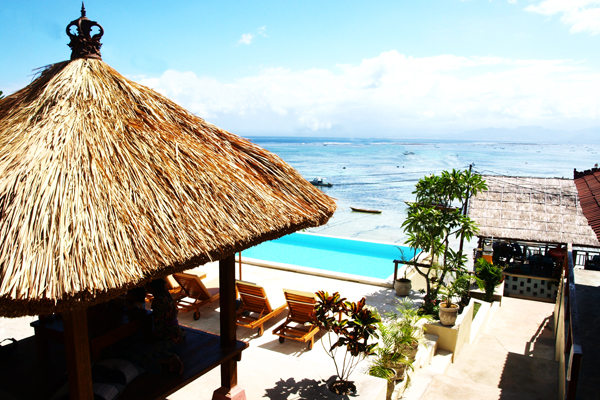 Get it while it's hot: Nusa Lembongnan has already been discovered by the surfers, which means throngs of tourists are soon to follow. But for right now, the place is still a dream. If you're into surfing, there are three main breaks -– Shipwreck, Lacerations and Playground –- which see the most traffic from April to September. They are more suited to intermediate and experienced surfers as they break over coral reefs. Non-surfers will find enjoy diving, snorkeling or just sunning on the beaches of Mushroom Bay, Pantai Selegimpak, Dream Beach, and Jungut Batu (the most developed).
This island also boasts Lurlur Spa at Batu Karang, which uses Australian products. The cozy Waka Nusa Resort boasts just 10 exclusive bungalows. The good news is, you'll be right on the beach. The bad news is, there is no air conditioning, telephones, or TVs. Take heart, one of the best sunset views in the world is just a few yards away: explore the western side of the island at Jungut Beach or grab a spot on the bridge to Nusa Ceningan to see the best highlight of this location.
Nusa Penida
No deepwater harbor at Nusa Penida means no tourist infestation: if you want a getaway that really lets you get away, this is your surefire choice. Getting around the island will involve bringing over a good mountain bike, or renting a motorbike from one of the locals. There's no nightlife to be found – not even a bar.
Though you won't find many snowbirds, Nusa Penida is the unofficial bird sanctuary for the critically endangered Bali Starling and many other species. Other than checking out the feathered friends, there's little else to do except laze in the sun. Pity. However, if the beautiful birds weren't good omen enough, the island also has several interesting Hindu temples. The grand Pura Penataran Ped temple is of particular importance and visited by many Balinese pilgrims who pray for protection against disease and death.
Explore Crystal Bay, a beach beyond beautiful, and the stalactites of Goa Karangsari cave (a guide can be hired for $2.15). Bungalow PEMDA across from the police station holds 14 rooms. At the highest point of the island, an unnamed private villa is available for rent.Near the temple of Puncak Mundi, the eco-friendly property has a spectacular 360-degree view of the surrounding countryside. On clear days, you can see Mount Agung from the verandah.

[cnn]
photo credit: scallywagsresort, lembonganreef, balidrivertour