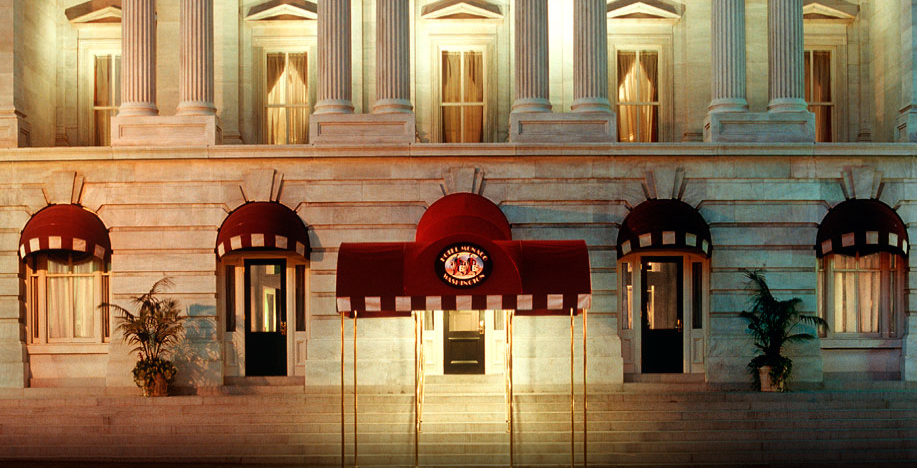 Recently I visited friends who stayed at a Kimpton Hotel in the Boston area. I was immediately captivated by the ambiance of this boutique hotel and was sure that I wanted to stay at a Kimpton on my next trip. In late summer, on a very last minute trip to the Washington DC area, I thought, here's my chance!
There are six Kimpton hotels in the greater DC area. Thanks to the help of the Kimpton DC area office, I booked a room at Kimpton's Monaco Washington DC which is located at the heart of Penn Quarter, the city's vibrant downtown scene. The hotel is across the street from the Smithsonian National Portrait Gallery and the fabulous International Spy Museum, and just blocks from major landmarks like the Washington Monument.
Monaco Washington DC definitely exudes ambiance, intimacy, and personality — trademarks of boutique hotels. The 19th century architectural design, created by Robert Mills (Washington Monument) and Thomas Walter (US Capitol), is juxtaposed with contemporary design elements with hints of whimsical.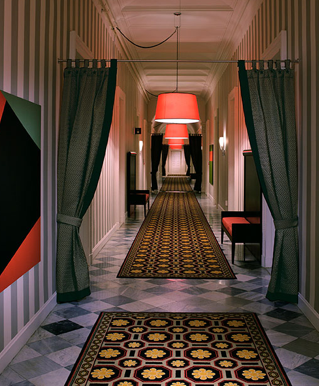 The lobby felt like an intimate living room with low-slung sofas upholstered in lush navy mohair, and tables in ebony and mahogany. Modern furniture in vibrant hues of red and orange are interspersed throughout the sitting area. The focal point of the room is a large, neoclassical fireplace appointed with faux- marble detailing in green, black and white.
The guest rooms are luxurious and sophisticated even for the most savvy traveler. I was pleasantly surprised by an upgrade to a suite upon arrival. The three-room suite is spacious with original 15-foot vaulted ceilings and eclectic furnishings of neoclassic armoires mixed with contemporary desks. The bed is swathed in Frette linen.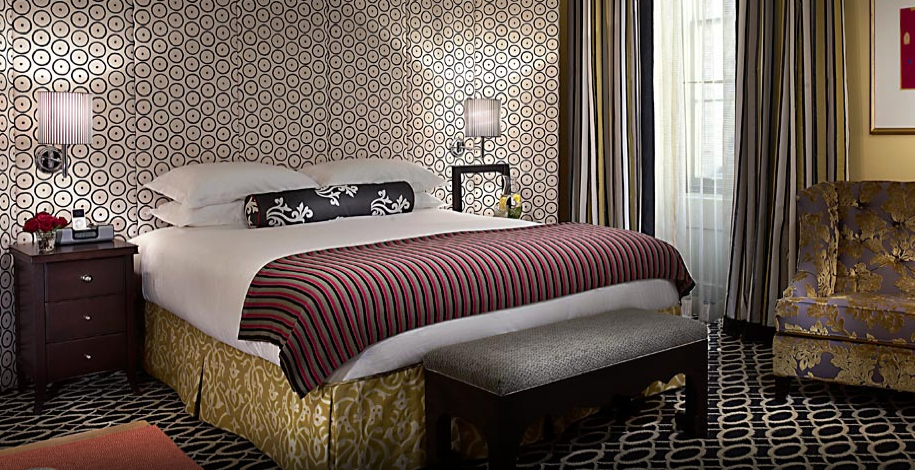 The hotel offers many complimentary perks including wifi, coffees and teas in the morning and a wine reception in the evening. They also provided complimentary bicycles for guests to use during their stay. These bicycles have to be returned by 10pm — so much for night tours of the Capitol!
The Monaco staff was accommodating, although I encountered a few staff who were not as well trained or as friendly as I would expect from a high-style hotel such as the Kimpton Monaco.
A bustling 174- seat restaurant and bar, Poste Moderne Brasserie, is adjacent and connected to the Monaco Hotel. This modern brasserie offers contemporary French brasserie-style cuisine as well as a wine list featuring approximately 100 domestic and international wines.

Monaco Washington DC, 700 F Street, NW, Washington, DC
photo credit: kimpton monaco