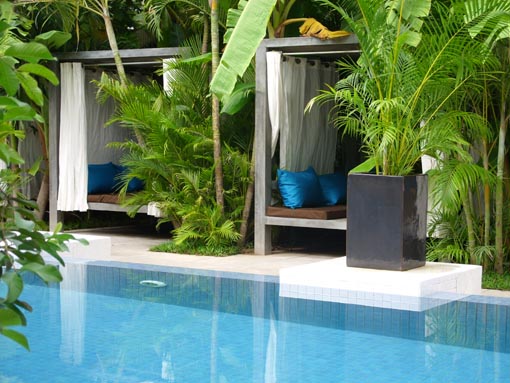 BudgetTravel.com unveiled their list of the most affordable new hotels around the globe. We're not sure what criteria was used for the hotels to make the cut except that all the hotels are under $150. Sometimes it's difficult to define affordability because to some $150 is very affordable, others not so. Sometimes a cheap hotel is just that — cheap. We reviewed the list and further refined it — taking into account hotel aura and amenities, location, and cost. We've identified 12 hotels on the list, with fabulous design and individual flair, that give you the biggest bang (of value) for the buck.
Phnom Penh, Cambodia
It's easy to confuse the Blue Lime with an apartment building—only a small gold plaque next to a sliding wooden door confirms you've found the 14-room hotel, opened last year by French expat Alexis de Suremain. Inside, all of the furniture (including the built-in shelves, tables, and window seats) is shaped from concrete. Green-silk curtains and fuchsia and tangerine pillows soften the urban vibe and brighten the rooms, most of which have balconies. Out back, banana and mango trees shade the saltwater pool. bluelime.asia, from $40 with breakfast.

New York City
Staying at the 133-room Jane hotel in the West Village feels a bit like stepping back in time: For starters, the clanky elevator still uses a manual operator. Celeb hoteliers Sean MacPherson and Eric Goode restored the century-old building, which housed Titanic survivors in 1912, and dressed it up with bohemian details like zebra-print chairs and mismatched velvet sofas in the lobby. Suited to solo travelers, the 90 wood-paneled single rooms have been fashioned after train and yacht cabins, with built-in drawers underneath twin beds. thejanenyc.com, singles from $99.

San Francisco

photo courtesy of good hotel

The year-old Good Hotel promises a novel service: absolution. An orange phone in the lobby connects guests with volunteer activities like sorting cans at a local food bank. The 117 ecofriendly rooms are each done up with reclaimed-pine headboards, chandeliers constructed out of empty Voss water bottles, and cheeky reminders to BE GOOD painted on the walls. jdvhotels.com/hotels/good, from $109.

Bordeaux, France
Among the region's 18th-century châteaux, the lakeside cluster of mini houses at Camping de Bordeaux Lac is an unexpected sight. Ranging from 183 to 377 square feet, the 92 cottages are divided into nine categories, each with its own whimsical motif. Toy sailboats sit on the tables inside the Cabanes de Pêcheurs (Fishermen's Cabins), and the Chalet Prestige looks like it's made of Lincoln Logs. The bungalows, which opened in June, all come with a full kitchen and a patio or porch. camping-bordeauxlac.com, one-bedroom cottages from $50, two-bedrooms from $57.

Paris
There's no mistaking Oops! for a regular backpacker's dorm. This 2-year-old boutique hostel exudes energy as soon as you walk in the door: Red and white lighted boxes spell out oops! in the lobby (the architect just liked the sound of the word), a mural dresses up the breakfast area, and the 46 rooms have flourishes like electric pink or green walls. The place closes from 11 a.m. to 4 p.m. for housekeeping, so be ready to spend the day exploring the neighboring Latin Quarter, a five-minute walk away. Request one of the 12 double rooms, which have private bathrooms. oops-paris.com, from $85 with breakfast.

Llandeilo, U.K.
A four-hour train ride from London, Fronlas (Welsh for "Blue Hill") is a worthy weekend escape. The three rooms in the luxurious Edwardian town house face Brecon Beacons National Park, and they're all about comfort (solar-panel-heated floors, rain showerheads, log fires). If you arrive by train, the husband-and-wife owners will greet you at the door with a free bottle of organic wine. fronlas.com, from $133 with breakfast, closed mid-October through mid-January.

Edinburgh
A night at the two-room Millers64 is like visiting your cool cousins. Sisters Shona and Louise Clelland bought and renovated an 1890s row house last summer, taking care to retain details like the turquoise tiles framing the fireplace. Inspired by their 11 years of living and traveling in Malaysia and Thailand, the Clellands added accents such as pewter washbasins from Phuket. Louise uses local ingredients for her Scottish breakfasts, which feature homemade apricot jam. The sisters live on the third floor with their mom, Sally, and are happy to point you to their favorite sites, like Holyrood Palace. millers64.com, from $133 with breakfast.

Budapest

photo courtesy of design hotels

The glass-paneled Lánchíd 19 hotel embraces its location right on the Danube River. At night, the façade comes alive with a colorful light installation, and the rooms on floors four to seven offer unobstructed views of the river. Named after the Chain Bridge, the 2-year-old hotel also has a transparent lobby floor, which allows you to see the excavated remains of a medieval water tower below. Fun design elements are sprinkled throughout the 48 rooms: a magnetic chessboard mounted on a wall, or a platform bed separated from an orange-tiled bathroom by a sliding glass door. designhotels.com/lanchid, from $101.

Berlin
The Circus Hotel in the Mitte district is the grown-up alternative to a popular hostel that shares its name, just across the square. The 60 individually designed rooms have blue, tangerine, lime, or hot-pink accents, and all have dark-oak floors and flea-market finds like vintage glass vases. The organic restaurant, Fabisch, is named after the family that once owned the 19th-century building. Netbooks and iPods preloaded with local artists like German indie rockers Sportfreunde Stiller are on loan at the front desk. circus-berlin.de, from $111.

Siem Reap, Cambodia
Most guests come to see the Angkor Wat ruins about four miles away, but the experience of staying at Viroth's Hotel is itself a historic treat: The property is in one of the few remaining examples of New Khmer Architecture, a modernist style that thrived here in the 1960s. Two years ago, owners Kol Viroth and Fabien Martial converted the boxy, two-story villa into a seven-room boutique hotel with a saltwater pool, a rooftop hot tub, and an open-air spa. Each of the rooms has a beige duvet covering a white queen-size platform bed, a woven mat on the gray Khmer tile floor, and dark-brown drapes that open onto a private balcony. viroth-hotel.com, from $90 with breakfast.

Bangkok

photo courtesy of seven hotel

Owner Pylin Jane Sanguanpiyapand grew up in a family that has sold Sherwin-Williams paint in Thailand for decades, so it makes sense that the 31-year-old went color crazy in 2007 when creating the Seven hotel. The six guest rooms each use distinctive shades of yellow, pink, green, orange, blue, and purple in the bedding and murals. A red-themed communal space serves as the seventh room, an all-purpose reception area, bar, art gallery, and breakfast nook. sleepatseven.com, from $88 with breakfast.

Teton Village, Wyo.
Pro skier turned hotelier Rob DesLauriers didn't compromise on comfort when going green. His 132-room Hotel Terra Jackson Hole—built using old barn lumber—has bathrooms with radiant-heat slate floors and amenities like a full-service spa and an outdoor infinity pool. The hotel is less than a five-minute walk from the Jackson Hole Aerial Tram, and after a punishing day on the slopes, nothing beats soaking in the rooftop hot tub while sipping a fair-trade latte. hotelterrajacksonhole.com, from $119.