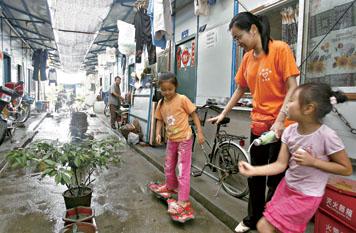 China's CCTV reported that the Green Hope School in Sichuan Province has launched a program themed "Striving for a Better Tomorrow and Touching Your Soul" to recruit white-collar workers to spend five working days — the length of annual vacations — in November to teach in the mountainous areas of Sichuan Province. The response has been overwhelming with 11,502 applicants for 15 volunteer spots.
"In the past month, we have been overwhelmed by phone calls. Besides the local calls, we also received application calls and emails from Zhejiang Province, Beijing and other places in China." The organizer reported that white-collar applicants were quite enthusiastic.
Ms. Guo, born in 1983, now works in finance at a Top 500 company. In 2008, she took part in a program the company organized to send their teachers to teach at a school for migrant workers' children. Even after this experience, she wanted to be a teacher again, so she signed up again this year. Although she only had a five-day annual vacation, she still felt it was worth it. "Maybe I will gain more than the students, because while helping others I can also feel happy and relaxed."

Yet according to Mr. Wang, a veteran volunteer who has participated in rural education programs, the Special Olympics, assistance for the Wenchuan Earthquake, as well as many other volunteer activities," In many people's eyes, the annual vacation is for amusement and relaxation. In fact, if I can spend the annual leave in Sichuan Province, experiencing the local customs and helping the children, then it can be called 'combining teaching with entertainment."
Although a 5-day period is considered short by some, the organizer's goal is to stoke the children's interests and curiosity by creating a curriculum with interesting programs aimed to develop local children's interests and hobbies. They have devised an innovative way to get engaging and relevant teaching plans.
Volunteers would upload their teaching plans onto the Internet and then netizens could vote on them. The top 100 teaching plans would become candidates for further selection. Then, the specially-invited expert panel would, in accordance with the actual needs of teachers in various subjects put forward by the principal of the Hope School, pick out 15 teaching plans. This act not only prevents the teaching assistance program from becoming a mere formality, but also provides the local children with what they really need.
photo credit: cctv.com