First hotels are offering free nights for community service, now retailers are embracing community volunteering or giving back — consumerism meets volunteerism.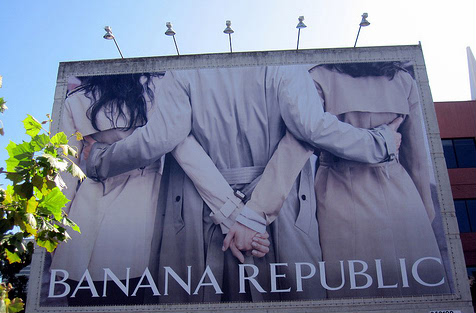 Popular retailer, Banana Republic, announced the launched of the "ONE+ALL" campaign this week which will help local service organizations match up with Banana Republic customers who are interested in volunteering based on their skills and interests. Banana Republic employees will also provide professional development training to service nonprofit representatives, to help the nonprofits sharpen their recruiting and training strategies.
The retailer is committed to becoming a more eco-conscious brand, doing good and making a difference in the communities where it has a presence. Banana Republic's customers are young urban professionals who care about fashion and also social responsibility.
Banana Republic President Jack Calhoun explains the campaign this way:
"Our store concept is designed to cultivate an experience that is personal and memorable for shoppers, and I'm proud of how we're taking our passion beyond fashion. The ONE+ALL program provides an inspiring platform that connects our employees, customers, and the community."
Beginning on Nov. 13 and 14 at five of its New York City stores, the retailer will introduce this new charitable concept of matchmaking its customers with dozens of organizations. Representatives from groups like Project Sunshine, Free Arts NYC and the Red Cross can recruit shoppers to work for their respective causes, or perhaps give them something more to think about.
One+All campaign is being coordinated with ServiceNation, a national campaign to increase service opportunities and awareness, and it will be expanded to other cities beginning next year, according to Banana Republic.
"Matching potential volunteers with causes that most engage them personally has historically been a challenge for nonprofits, but a bigger issue for many of them since the start of the recession has been that they have had to pare down their skilled employees, like lawyers and accountants," said Greg Propper, the executive director of ServiceNation. "Since Banana Republic caters to a largely professional clientele, those organizations may be able to find volunteers there who have just the skills they need."
"Our goal is to engage every segment of life in volunteer service, whether at colleges, places of worship or at retail," Mr. Propper said. "Everybody has a role to play. Everybody can do something."
Start giving back by shopping for good, here's a great opportunity:
Starting today and running through Sunday, Nov. 15, you can get 30% off your purchases at Gap, Banana Republic, Old Navy and Outlet by printing this coupon to use at the stores. While you enjoy 30% off, Gap Inc. will give 5% of the amount you spend to Service Nation to support community service activities and service promotions. Now, your shopping counts for more!
photo by calmenda